Greetings and welcome to my site
on the Internet ...
Although my name is
David Szczublewski
My Friends Just
call me
Soupy
Click on the Links below for my Favorite Pages





For Dates & Times of future Car Shows click below:
My Car Show Calendar
or
www.CruisinSouthFlorida.com


I live in beautiful, sunny South Florida in the city of Weston, a suburb of Ft. Lauderdale.
| | | | | |
| --- | --- | --- | --- | --- |
| | The Waterfall Hole on the East Course of Bonaventure Country Club | | View of the North Entry to Bonaventure/Weston | |
Living in Florida is a wonderful if you enjoy the warmth and sunshine the area offers pretty much year around. Doing activities outdoors has to be one of your main goals if you are ever going to totally appreciate what the weather has to offer. Activities such as Fresh and Salt Water Fishing, Golf, Hiking, Bicycling and Canoeing are on my list of favorite things to do.
Much of my site is dedicated to family and friends, including photos and e-mail addresses as well as to links to obscure and unusual websites for locating computer information, fishing information, etc.
Pictures of my newest car
Smokey & The Bandit Line 1

CLICK TO ENTER
Smokey & The Bandit Line 2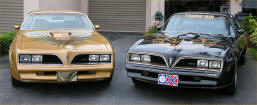 Last time the Gold & Black TA's were together
July 8, 2006
Pictures of my Gold '78 TA - Sold 7/8/06
Thanks for stopping by.